About Us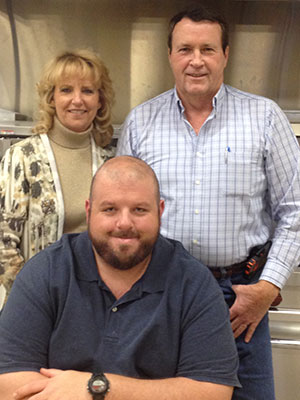 Winchester Restaurant EquipmentAllen and Debbie Knotts opened Winchester Restaurant Equipment at 531 McGhee Road, Winchester Virginia in September of 2011. We are your local commercial kitchen equipment and supply company with nearly 40 years of combined experience. We are able to provide you with the customer service and products that you can count on.
Allen and Debbie owned and operated Harwill Foodservice Equipment Company from 1985-2008. That business began at 663 North Loudoun Street in 1982. Thanks to our loyal customers the business expanded and relocated to 120 Lenoir Drive in 1991 and then to 531 McGhee Road in 2006. Allen and Debbie sold the Harwill business and name in May of 2008. The new owners operated the business until August of 2011 when they closed for good.
Realizing the need for a foodservice equipment business in the area, Allen and Debbie teamed up with Aaron Spaid, who had worked as sales manager for Harwill's from 2005- August 2011, to open Winchester Restaurant Equipment. Allen and Aaron are here to help you layout and design your kitchen and dining area and supply you with all of the equipment, furniture and supplies you need. With Allen's knowledge and wisdom and Aaron's creativity and enthusiasm, they will be able to address all of your commercial kitchen needs from the front of the house to the back of the house.
Along with the sale of new equipment we offer a full line of small wares in stock in our showroom. If we do not have what you need we will be glad to order it for you. Another specialty of our business is the sale of reconditioned equipment as well as commercial equipment repair parts. We provide quality foodservice equipment and supplies to the tri-state area servicing churches, restaurants, schools, fire hall's, clubs and anyone with a need for commercial kitchen supplies.